Prizes up to £20,000 available for business plan ideas lead by University of Cambridge postdocs.
Deadline: 17th July
Prizes: up to £20,000
Support: training and access to Ideaspace
Location: University of Cambridge
Now in its eighth year, The Chris Abell Postdoc Business Plan Competition has become a key annual programme in the University's entrepreneurial ecosystem and has spawned a number of successful spin-out companies including Nu Quantum, Porotech, Semarion and Xampla
Run by Cambridge Enterprise and the Entrepreneurial Postdocs of Cambridge, the competition features a programme of activities designed to help accelerate the creation of businesses from University research. To enter, a lead postdoc applicant must submit a business plan outlining the idea. Whether it's a ground-breaking invention or a social enterprise, whatever the academic expertise, we want to hear about it.
*** NEW FOR 2022 ***
For the first time, Chris Abell Postdoc Business Plan Competition semi-finalists will be offered an additional programme of activities to support and accelerate their business idea.
Comprising a blend of round table discussions, one-to-one sessions and opportunities to engage with other semi-finalists, topics covered include customer validation, building a team, investment and pitching. Semi-finalists will be invited to participate in this additional programme, taking place one day a week during the summer mentoring period (August).
The deadline for entries to the Chris Abell Business Plan Competition is 17 July 2022.
Training workshops
In May, postdocs and team members were invited to attend our business modelling workshop as a means to untangle their initial business idea and to see if it has real market potential. Later, after some independent investigation, postdocs and team members were then invited to a second workshop in June on how to write up their first stage business plans, including details on what the competition judges will want to see in their application and why. If shortlisted as a finalist, applicants will also receive expert one-to-one pitch training in October to hone their business pitches.
Prizes to be awarded include:
£20k INVESTMENT SPONSORED BY CAMBRIDGE ENTERPRISE
£10k INVESTMENT SPONSORED BY CAMBRIDGE INNOVATION CAPITAL
£5k INVESTMENT SPONSORED BY OXBRIDGE ANGELS
1 year MEMBERSHIP AT IDEASPACE FOR ALL FINALISTS
2022 Competition timeline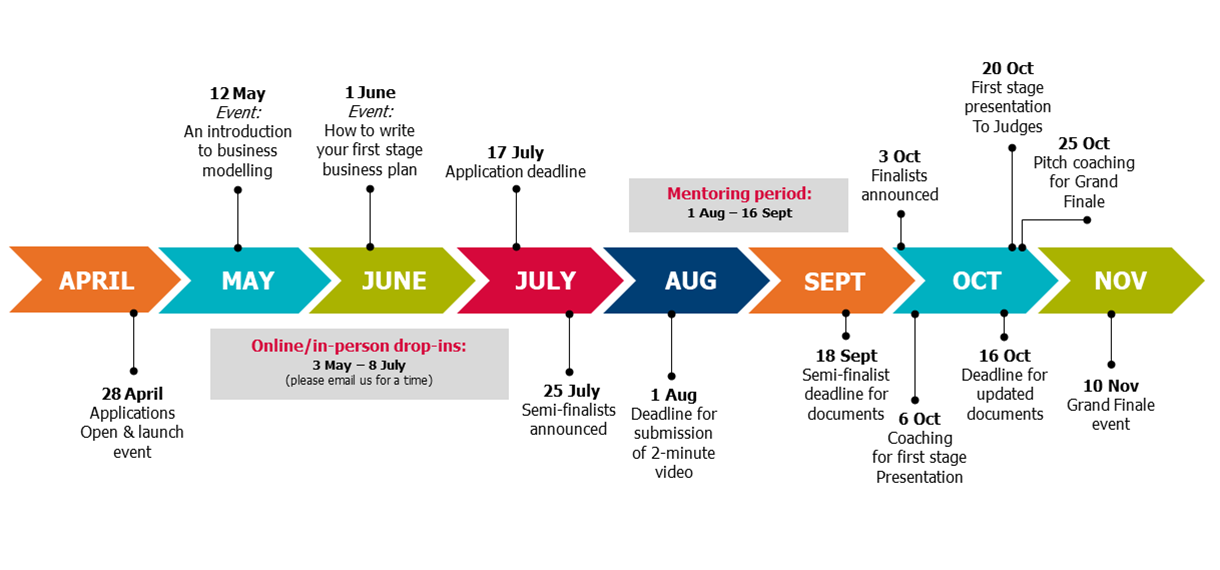 Originally published by University of Cambridge Enterprise: https://www.enterprise.cam.ac.uk/for-the-university/start-a-company-or-s...