Circadian rhythms and cycling patterns of gene expression have great significance for living organisms - including ourselves! Find out more about the molecular basis of circadian rhythms and how close we are to engineering them using synthetic biology.
'Approaches to investigate the circadian system in Marchantia'
Lukas Mueller, Department of Plant Sciences
In Lukas Mueller's OpenPlant project, he is investigating the circadian clock in Marchantia polymorpha and analysing the regulation of clock behaviour and outputs in this relative of early land plants.
The project focuses on the primary metabolism as an excellent proxy for systemic processes and vegetative growth. Lukas applies fluorescent imaging tools with computational time-lapse analysis to obtain cell-specific read-outs for the whole plant in real-time. This data is intended to set the stage for both physiological engineering and systems biology approaches. To achieve these goals he engineers fluorescent proteins that are standardised and improved reporters for dynamic changes in gene expression.
'Circadian Rhythms: Everything you always wanted to know about Jet Lag (but were too tired to ask)'
John O'Neill, MRC-LMB 
Circadian rhythms are endogenous ~24h cycles that organise the biology of most organisms to keep time with the environmental cycle of day and night. In humans, circadian rhythms are observed at every level of biological scale, from our sleep/wake cycle to molecular oscillations within every cell of the body. Disruption of this biological clock, as occurs during shift work, has been strongly linked with conditions such type II diabetes, neurodegeneration, cardiovascular disease and various cancers. John's talk feature a whirlwind tour through the history of chronobiology research, from the 4th century BC to the recent Nobel prize in Physiology or Medicine.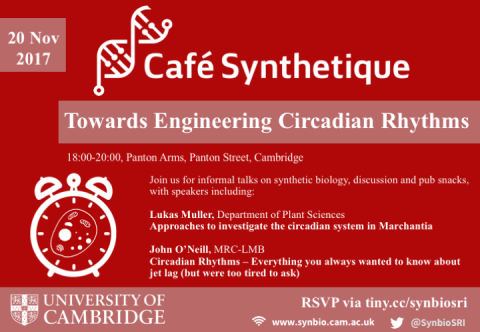 Café Synthetique is the monthly meetup for the Cambridge synthetic biology community with informal talks, discussion and pub snacks.
Supported by:

Cambridge Consultants is proud to support Cafe Synthetique and the Cambridge synthetic biology community.
Date:
Monday, 20 November, 2017 -

18:00

to

20:00
Event location:
Panton Arms, 43 Panton Street CB2 1HL, Cambridge