The Engineering Biology IRC organises regular events that bring people together at the interface of biology and engineering. Our events are open to all and take place throughout the year. A full event schedule can be found on the Cambridge SynBio Meetup Group >>>
Regular Event Series

EngBio Forum
The EngBio Forum is a series of flagship events with prominent external speakers and excellent networking opportunities: a great opportunity to learn more about cutting edge synthetic and engineering biology.
Cafe Synthetique
Café Synthetique is the monthly meetup for the Cambridge synthetic biology community with informal talks, discussion and pub snacks. Every third Monday of the month at the Panton Arms.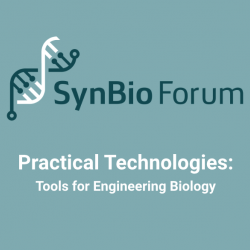 Practical Technologies Webinar Series
New workshop series exploring technologies at the interface of biology, engineering, academia and industry. Practical advice on how to make the most of the latest biological technologies, and how research can be applied in commercial and non-profit environments. Held online, last Tuesday of every month, 3pm BST/GMT.

Cell-free SynBio Lunch Meetings
In vitro or cell-free synthetic biology is a topic of growing interest to many groups in Cambridge. The SynBio SRI hosts a monthly lunch meeting to support interdisciplinary work in this space.

CRASSH Group Meetings
The guiding question of this group is the extent to which open technologies result in equitable sharing of knowledge and cognitive or technology justice. Alternate Mondays at 13:00 during term time.

VIRI Lunches
The Cambridge node of the Virtual Institute for Responsible Innovation (VIRI) meet for a termly lunch to share updates on Responsible Research and Innovation (RRI) activities around the University.
Special Event Series
The one-day workshop aims to increase early career researchers' grant writing skills and likelihood of obtaining funding.

OpenPlant Forum
The OpenPlant Forum provides a platform for exploring the potential applications of reprogrammed biological systems, and a framework for exploring the wider implications of the potentially disruptive new technologies. The Forum is held annually, in the last week of July, alternating between Cambridge and Norwich.
Open Technology Week  
Open Technology Week is a series of events showcasing and celebrating open and open source technologies, culminating in a gathering and open source maker faire at the Cambridge University Engineering Department.

Build a Biomakespace
Mondays at the Biomakespace are an opportunity to meet people, find out new things, share progress and ideas. We also meet on Thursdays, this is our work day for volunteers!