Café Synthetique is the monthly meet-up for the Cambridge synthetic and engineering biology community. Join us on the first Monday of each month for informal talks, discussion, drinks and snacks and to catch up with engineering biology news and projects from across the Cambridge community. Cafe Synthetique is kindly sponsored by Cambridge Consultants.
We meet monthly at the Panton Arms to share the latest developments in engineering biology, synthetic biology and related approaches and techniques. From students, to local biotech companies, and from bioart to next generation crops, Cafe Synthetique aims to bring together the best engineering biology tools, techniques, projects and ideas from across Cambridge in an informal environment. We are an open and welcoming group promoting interdisciplinary discussion and collaboration, and the sharing of ideas and exciting new technologies. Cafe Synthetique is a space for members of the Cambridge engineering biology, synthetic biology, biotechnology and bioinnovation communities to meet, learn and discuss. Meetings are open to everyone, from students and academics to those working in industry and policy, social scientists and DIY biologists. We are always open to speaker suggestions so if you would like to nominate yourself or another person, please get in touch via coordinator@engbio.cam.ac.uk.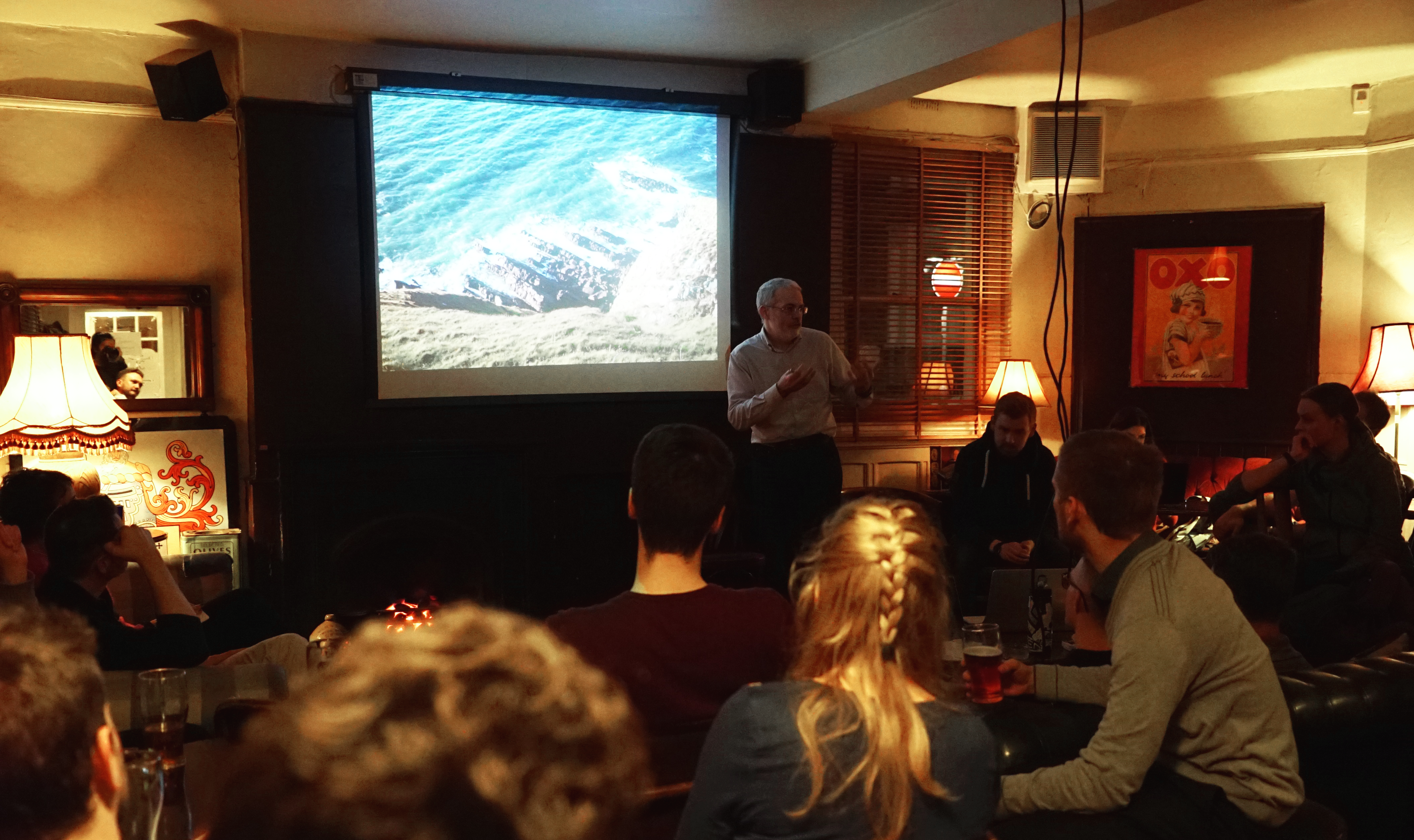 What's New in 2023?
Kindly Sponsored by Cambridge Consultants
Returning in September 2022 Cafe Synthetique will be held on the first Monday of each month. The format will remain the same, with 1-2 short talks followed by discussion and an opportunity to network, all accompanied by tasty pub snacks and buy-your-own drinks.
Topics cover many areas at the intersection on biology and engineering (see some examples below), often pairing speakers from the University with local start-ups and biotech companies to provide a broad view from emerging research and technologies to real-world and commercial applications.
Dates for Your Diary
Past Meeting
3rd April - Lorenzo Di Michele, Asst. Professor in Biotechnology, Department of Chemical Engineering and Biotechnology. "Building synthetic cells with DNA (just not how you would expect)"
It will be fantastic to see the members of our community coming together again with free food available! We look forward to seeing you at the Panton Arms, Cambridge. Places are limited. Please RSVP HERE
Get Involved!
If you would like to give a short presentation at an upcoming Cafe Sythetique event in 2023, or if you have suggestions for interesting speakers or topics, please do not hesitate to get in touch at coordinator@engbio.cam.ac.uk.
Past Events
Past meetings have spanned a broad range of topics. You can find a full list of previous Cafe Synthetique events in our archive, or see some examples below:
Image Credits: EngBio IRC; Media Studio (Biomedicine & Medtech); D. G. Strange, Department of Engineering (Materials & Biomimicry), LunaFlow Biomaker Team (AI, Machine Learning & Software)