We're very excited to announce the project list for this year's Biomaker Challenge. The participants span 20 University of Cambridge departments, several Norwich institutes, and include industry professionals and international collaborators from Germany, Chile, Argentina, Kenya and beyond. The proposals were incredibly varied, including everything from a neural sensor for early-stage cancer detection to a low-cost incubator to grow mycelium biotextiles. What's next in the challenge? We're putting the final touches on this year's training materials and are looking forward to our first training event on Monday 3 June (all are welcome)!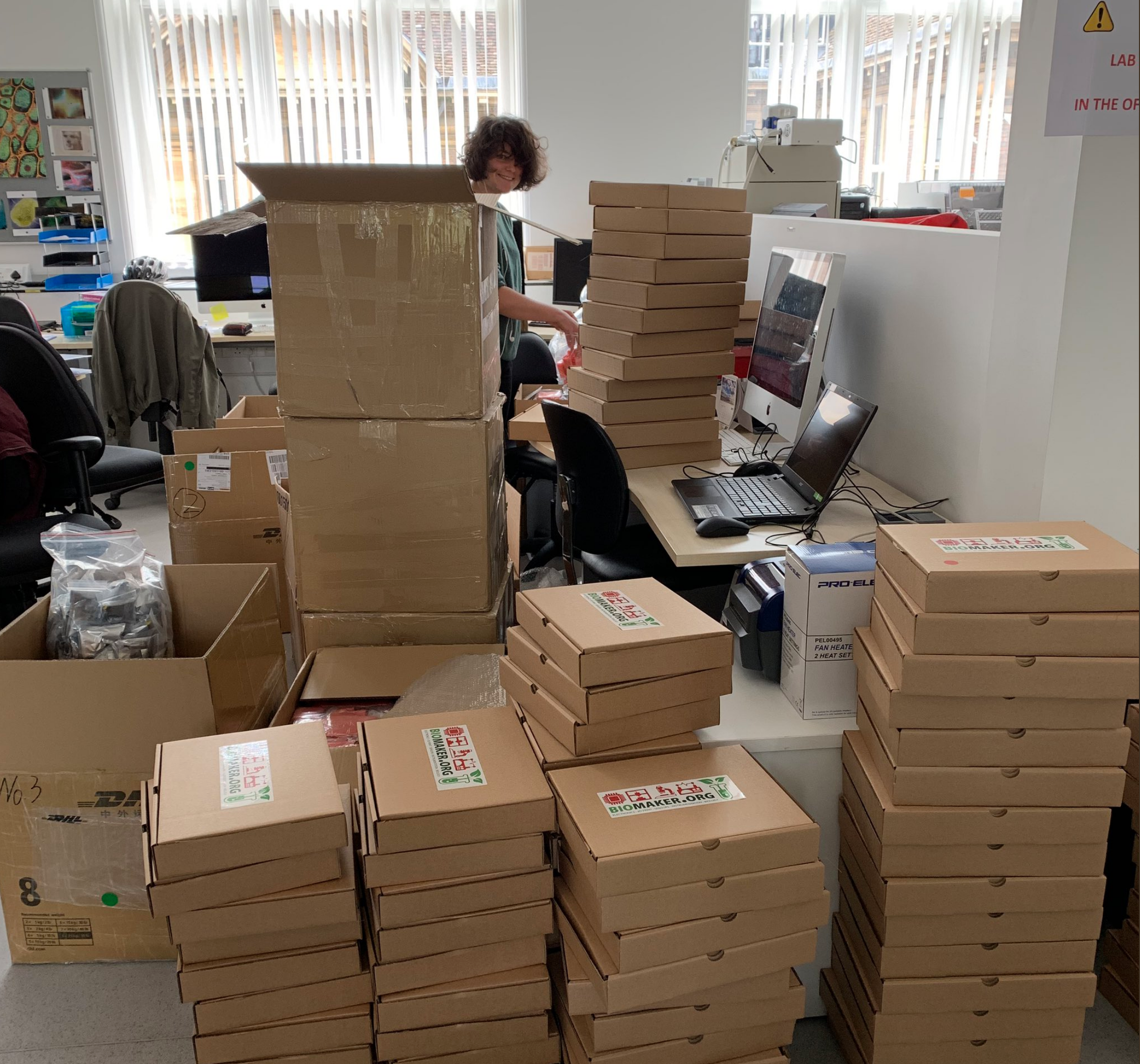 Biomaker Africa Coordinator Anne-Pia Marty preparing low-cost hardware kits for participants
Project Titles
An open-source dynamic light scattering device for nanoparticles sizing

LunaFlow: Bioluminescent plankton for 3D flow visualisations of pressure fields

Pressure controlled micro-manipulation of bioluminescent microorganisms

Stress priming for improved production of biotech-relevant compound in green alga

Mechanisms for direct electron transfer (DIET) between Geobacter and Methanothrix

Diabetes diagnosis and management using Arduino and mobile user interface

Developing an open & affordable 3D bioprinter

Droplet-based microfluidics to mimic the compartmentation of metabolism in multicellular systems

e-CO-SENSE – Biophotovoltaic Powered Soil Sensors

An open toolkit for engineering microbial interactions

Establishing a joint UK-Kenya Phytoplasma research initiative

Build Your Own DNA Dave

Low Cost SLM Interface Board for Advanced Microscopy

SAFE - Safe Air For Everyone: DIY-friendly air filtration unit and air quality sensor

Variable-time cameras with image recognition for inexpensive, large-scale monitoring of plant pollination events

Low-cost oxygen sensor for bioreactors

MACRO IMAGER: a low-cost multi-purpose large area macro digital photography phenotyping station

A behavioural chamber to evaluate rodent forelimb grasping performance

Low cost incubator to grow mycelium biotextile

Aeroponics for All: low-cost aeroponic growing unit prototype

A neural sensor for early-stage cancer detection

In-situ 3D visualization using X-ray CT during mechanical testing of natural cellular materials

BrewerMicro – DIY microscope for counting yeast

IoHeat: a low-cost, remotely-controlled heated compartment for cell-culture

Did the organellar transit peptide duplicate itself to make a disordered linker protein?

Identification of genes involved in chloroplast division by comparison of temporal transcriptomics of C. reinhardtii and A. thaliana

Engineering Low-cost Turbidostat Systems for Running Microbial Evolution Experiments
Join our Cambridge community building & training events: Mondays 3, 10 June & 1, 8 July
The Biomaker meetups are open to all and will be a great opportunity to connect with the open technology community and learn new skills. The first training event will be an introduction to the Biomaker starter kit focusing on programming the arduino micro controller using the XOD visual programming interface. Just bring your laptops and we'll provide the hardware and instruction!